Regular lubrication of your deck is crucial in keeping it in good condition. A high-quality decking oil improves the wood's inherent beauty and helps shield it from the elements, assuring its durability. This post will examine the top 5 decking oils and discuss how crucial it is to oil your deck.
Ultimate Protection Decking Oil by Ronseal The outstanding protective capabilities of this oil make it a favourite among homeowners. It deeply penetrates the wood, shielding it from UV radiation and water damage while preventing warping, warping, and cracking. Finding the perfect colour to match your deck is simple, thanks to the Ronseal Ultimate Protection Decking Oil's variety of tints.
Cuprinol UV Guard Decking Oil: For those looking to shield their deck from the damaging effects of the sun, Cuprinol UV Guard Decking Oil is ideal. UV filters are integrated into the Cuprinol UV Guard Decking Oil, helping to stop the wood from fading, splitting, and peeling. Additionally, it is water-resistant, making it an excellent option for decks in regions with heavy rains.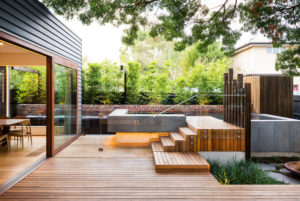 Liberon Decking Oil: If you're looking for a versatile decking oil that can be used on softwood and hardwood, then the Liberon Decking Oil is a great option. It penetrates deep into the wood, protecting it from weather damage, and it also enhances the natural beauty of the wood. The Liberon Decking Oil is available in various colours, making it easy to find a shade that complements your deck.
Barrettine Decking Oil: Due to its high water-resistance qualities, this oil is a favourite among homeowners. Additionally, it contains anti-fungal ingredients that help keep your deck from developing mould and mildew. If you need to oil your deck quickly, the Barrettine Decking Oil is a fantastic alternative because it is simple to use and dries rapidly.
Rustin Decking Oil: Rustin Decking Oil is a fantastic choice if you're searching for an oil that brings out the wood's natural grain. For people who need to oil their deck quickly, it's an excellent option because it's simple to use and dries rapidly. Additionally, the Rustins Decking Oil offers exceptional defence against weather-related harm, keeping the wood from splitting, cracking, and warping.
Now that we've covered the best decking oils available let's speak about the value of oiling your deck. For several reasons, oiling your patio is essential. The wood is firstly shielded from the environment, which keeps it from splitting, warping, and breaking. This is particularly crucial in regions with heavy rainfall or prolonged sun exposure. Secondly, oiling deck enhances the natural beauty of the wood, bringing out its unique grain and colour. Last but not least, lubricating your deck can aid in halting the development of mould and mildew, which are risky to your health.
It's crucial to properly follow the manufacturer's directions when lubricating your deck. Most decking oils need two applications, and before applying the second coat, it's critical to ensure the first coat has dried thoroughly. Also, before using the oil, it's crucial to ensure the deck is dry and clean to ensure that the oil effectively enters the wood.
Maintaining your deck's longevity and increasing its natural attractiveness require regular oiling. Therefore, it's crucial to select a high-quality decking oil that offers protection from the elements and brings out the wood's inherent beauty.