So you're going to Tasmania? I'm jealous!
I loved Tassie so much I've put together a bit of a travel guide for those of you planning to head down this year.
Here's how our trip went:
We started out by leaving the Arthur Highway to stop for a minute at the Tasman Blowhole and Devils Kitchen. These lookouts are extremely close to the road, you don't have to hike. It's a beautiful spot and I highly recommend you visit for a unique experience!
It wasn't possible to camp in Port Arthur, therefore we needed to stop at a camping spot just outside the city. If you don't want to camp you can check out the inspiring Hobart luxury accommodation scene or perhaps even just their spa retreats to pamper yourself after a big day of exploring; there are many stunning options in the area.
Despite waking up outside Hobart, we did visit Port Arthur on our next day.
Port Arthur was amazing; almost like an open-roof museum with the most beautiful views. We took an excursion on a cruise, which was a great way to enjoy the scenery and also to learn about the background of Tasmania and Australia.  I would recommend it to people interested in knowing more about the Australian culture.
If you value a good view or beautiful scenery, consider booking waterfront accommodation for a luxury feel.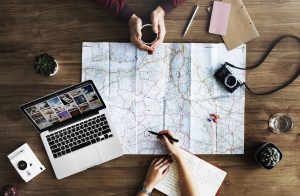 East Coast of Tasmania: Coles Bay, Freycinet National Park and Bicheno
The second night in Tasmania, we slept at Coles Bay at the most stunning wineglass bay resort.
Freycinet National Park is just one of our many highlights of Tasmania (Cradle Mountain is also a favourite). The view on the pristine beach is magnificent. We walked to the beach and had the most romantic time. It was amazing… allow at least a couple of hours to enjoy Freycinet. In case you've got more time on your hands, you will be able to walk the whole loop.
The next adventure for us was watching the sunset in Bicheno. In our guidebook, Bicheno was described as a fishing Village with penguins slowly walking through at night. Sounds wonderful, right?
The town didn't actually have the charm that you'd expect out of a Fishing village — which we found somewhat disappointing. Although we could hear the penguins on the beach and after a great deal of patience, we saw a couple of them! They were so cute,  it was a fantastic moment.
We slept in a campsite in Bicheno.
East Coast of Tasmania: Bay of Fires
With its reddish stones and blue water, this part of the shore is just stunning. It reminded me of the Pink Granit Coast at home in Brittany (France). The water was cold though.
We spent the night between the shore and Launceston, before arriving into the city.
Launceston and the Gorge
We chose to not invest too much time in the city, as we were more interested in researching more natural locations. We moved into the gorge nearby. It's amazing to have this type of large all-natural gorge so close to the town, and where we were staying.
We were not surprised to find it didn't have a wild or dirty feel to it at all; there were showers, barbeques and pools at the playground. Nothing too unbelievable, but nevertheless a wonderful stop on the road trip. My friends enjoyed it more than I did, for a few reasons. Perhaps I was too impatient to reach Cradle Mountain to love the gentle wilderness of this Launceston Gorge. At least we never struggled to find great places to eat!
I wish we could've used this afternoon to explore the north-west Of the island rather, however, it was too hard to fit in our itinerary.
Those interested in the intriguing seahorses may like to Stop by Seahorse World* while at Launceston.
We slept between Launceston and Cradle Mountain.
Cradle Mountain
I'd been so excited to see Cradle Mountain. And I was very fortunate when the day arrived: the weather was fantastic. It was my absolute favourite spot in Tasmania. I've thought about going back for more trekking — perhaps one day in the future, who knows?
There are lots of hiking choices in Cradle Mountain. We chose to do a long one (5-hour walk) and one in the base around Dove Lake (1.5-hour walk).
Cradle Mountain is a genuine alpine mountain, not like other ones you can find in Australia. It made me miss Europe a bit. After having lived a couple of years in Australia, I was happy to enjoy something different than the gorgeous shores — although a great shore is always a fantastic alternative, naturally.
We slept between Lake St Clair and Hobart.
On the way to Lake St Clair, we immediately stopped at Queenstown.
In Lake St Clair we did a hike in the woods that ultimately led into the lake. I enjoy hiking, but I was not impressed with this one. It was not bad, and I would have been pleased to do it if I had been living in the region. There are lots of better things to do in Tasmania if you have the time. Do not recommend.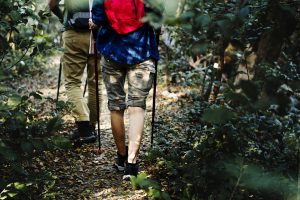 Bonorong Wildlife Sanctuary
Since I'm aware of how damaging it may be for animals to be stored in captivity, I have a tendency to avoid zoos or actions of this kind. I did visit the sanctuary though: where they save wounded animals and retain them just if they can't live in the wild. It was nice, and I love how the animals who can survive in the wild are released. Also, park fees encourage animal rescues!
I was not super-interested to see the animals as I'd seen most of them previously, in the Sydney Reptile Park — a zoo that has done a great deal to encourage the study of conserving endangered species.
The best part was when we got to feed the kangaroos/wallabies and pet a rescued koala. A cliché when you have been in Australia for a long time… but tourists love it.
Alright, those were my tips on how to plan a trip to Tasmania! I hope you found some good inspiration 🙂
If you have any thoughts on this post, please comment or send me an email!